You heard it here first, it WORKS. Check out these testimonials + customer reviews below.
Scroll to bottom for live videos of customers review!
#AddictedCrew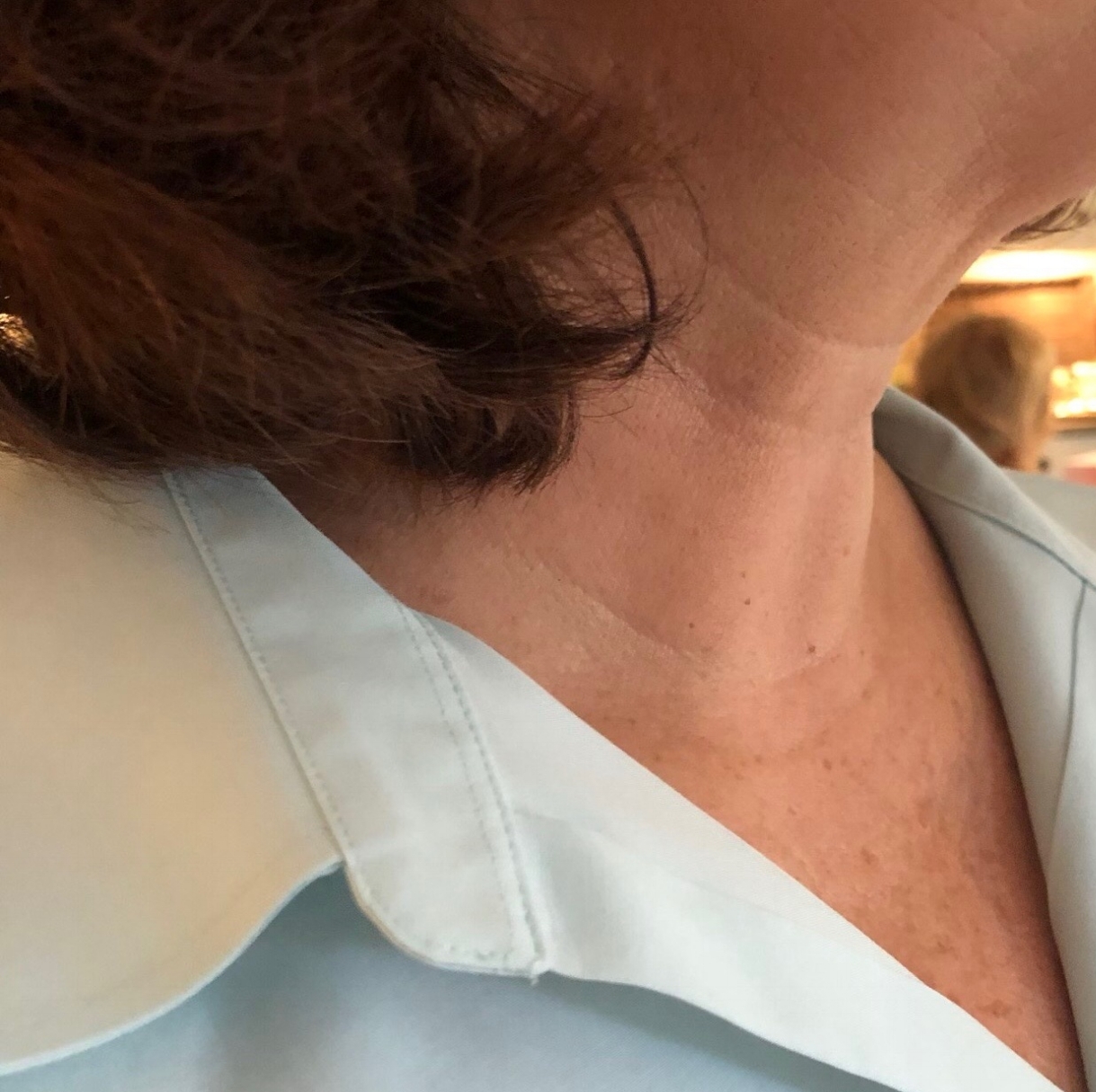 "In my line of work as a flight attendant, I am constantly using my neck to look down and around either before flights or during with customers and servicing their needs. I didn't know if this would work or aid in my life, but I decided to try it."
" I have to say, It has been a wonderful experience using the neck mask and serum to condition and care for that part, otherwise I don't know what I would do to keep the lines at bay and look younger with a tighter, brighter neck- it is the first thing I pamper myself with after flights!"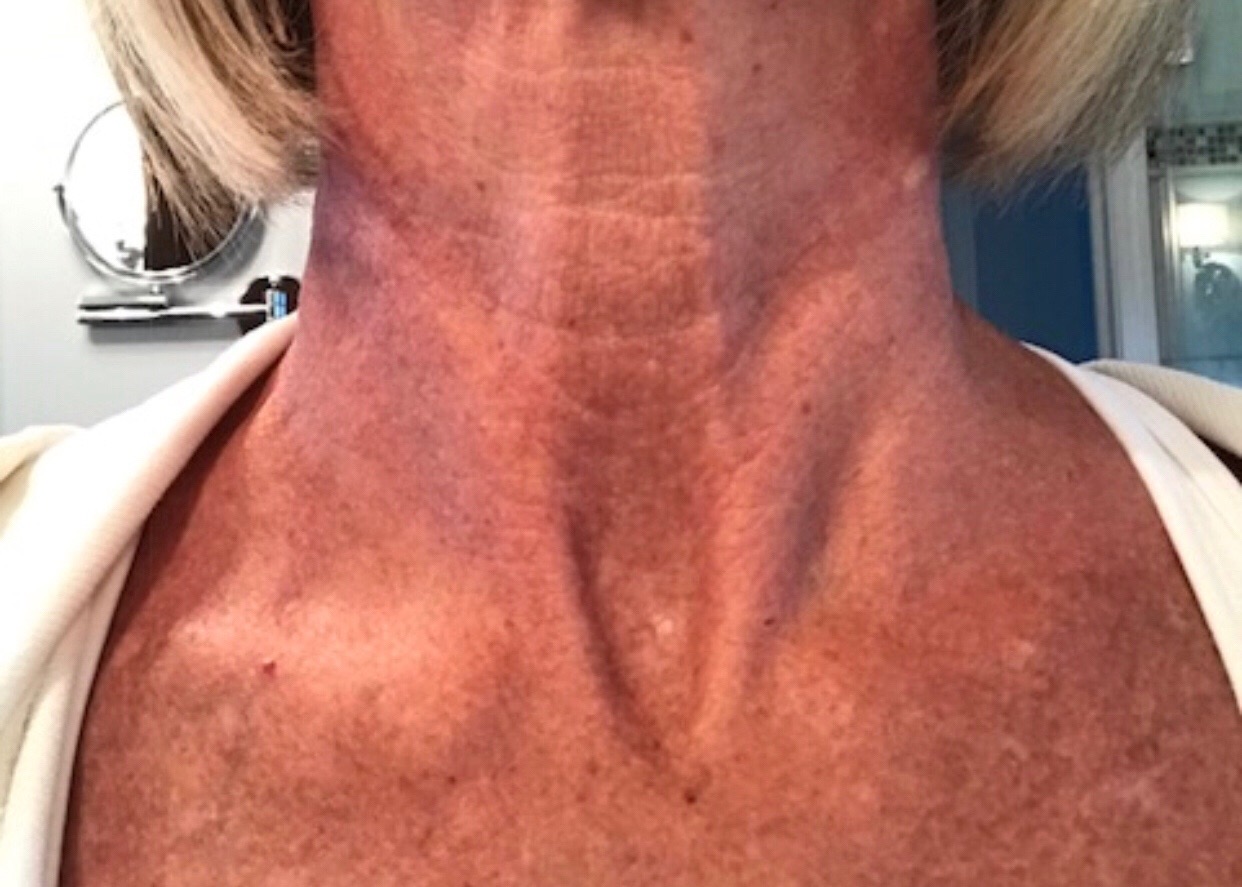 " I was nervous to put anything like this one my neck, as it really doesn't get a lot of attention besides moisturizer spill over etc. But what shocked me was how amazing it felt when you applied it. It felt like after sun lotion, cool and soft. I was not aggravated by it at all, during any of my uses!"
" The difference when show back my pictures was scary, in a good way! I couldn't believe the difference in just 3 weeks. My neck was softer, and the wrinkles were very much less visible. As a barista I always am looking down to fill drink orders, so it is nice to go home and know I can take care of the one area that gets used most often."
" The first time I used it, I was a little nervous about the fact that it is almost completely see through! I thought, am I going to be able to see this and peel it off? Came to be NO problem, it turns a shade of white on the edges and was easy to find. It comes off in one piece which is really nice so I don't have to scrape or rub any extra residue off. My first week or two was great."
" The results are clear, and I have to say my number one take away from using the neck mask and serum is how tight my neck feels after every use and for the next 72 hours as well. My neck doesn't feel stiff or rigid, but looks like it has been lifted. It is incredible to see the difference and I am thankful to find a product like this I know works!"
" You have to try this mask, you just have to… as a major new beauty trying skeptic, it was a challenge to try it the first time. But I am so glad I did, I found it easy to apply and I could continue doing my housework until it dried. It dries almost without you noticing which is amazing."
" As I continued using the product, I found something else I love about it. My neck has never been softer, I have used countless lotions to soften my skin and not until the mask and its magic serum have I felt it like this! That being a bi-product is wonderful- I am already seeing the appearance of my lines being reduced, to show a youthful looking neck."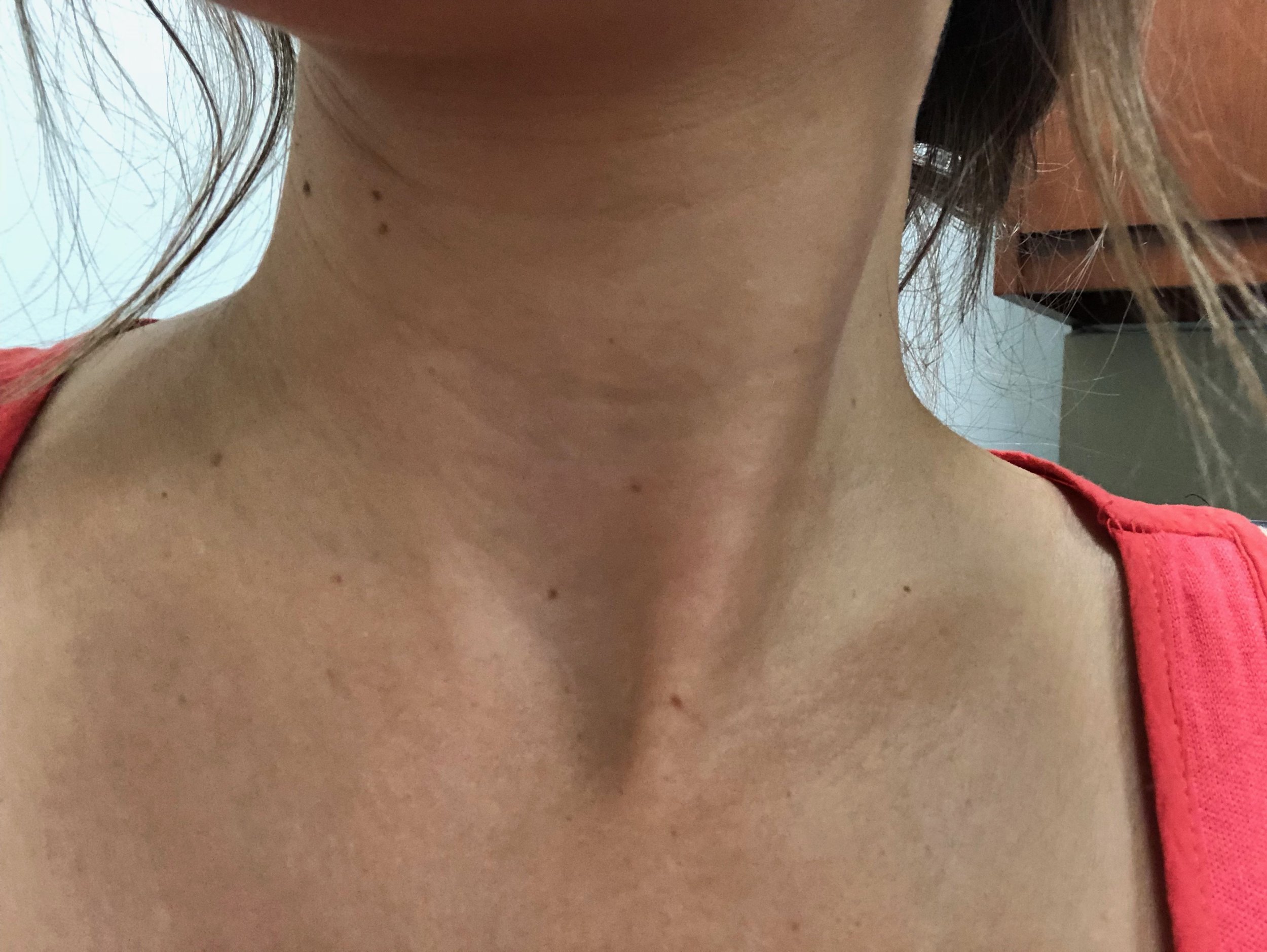 Week 1 was interesting, the mask is pretty cool. I LOVE that is is clear, so I don't look weird when going around with it on! It did take at least 30-35 min to dry. But when it did- it came off in one piece! I feel like my neck is softer already so we will see what happens.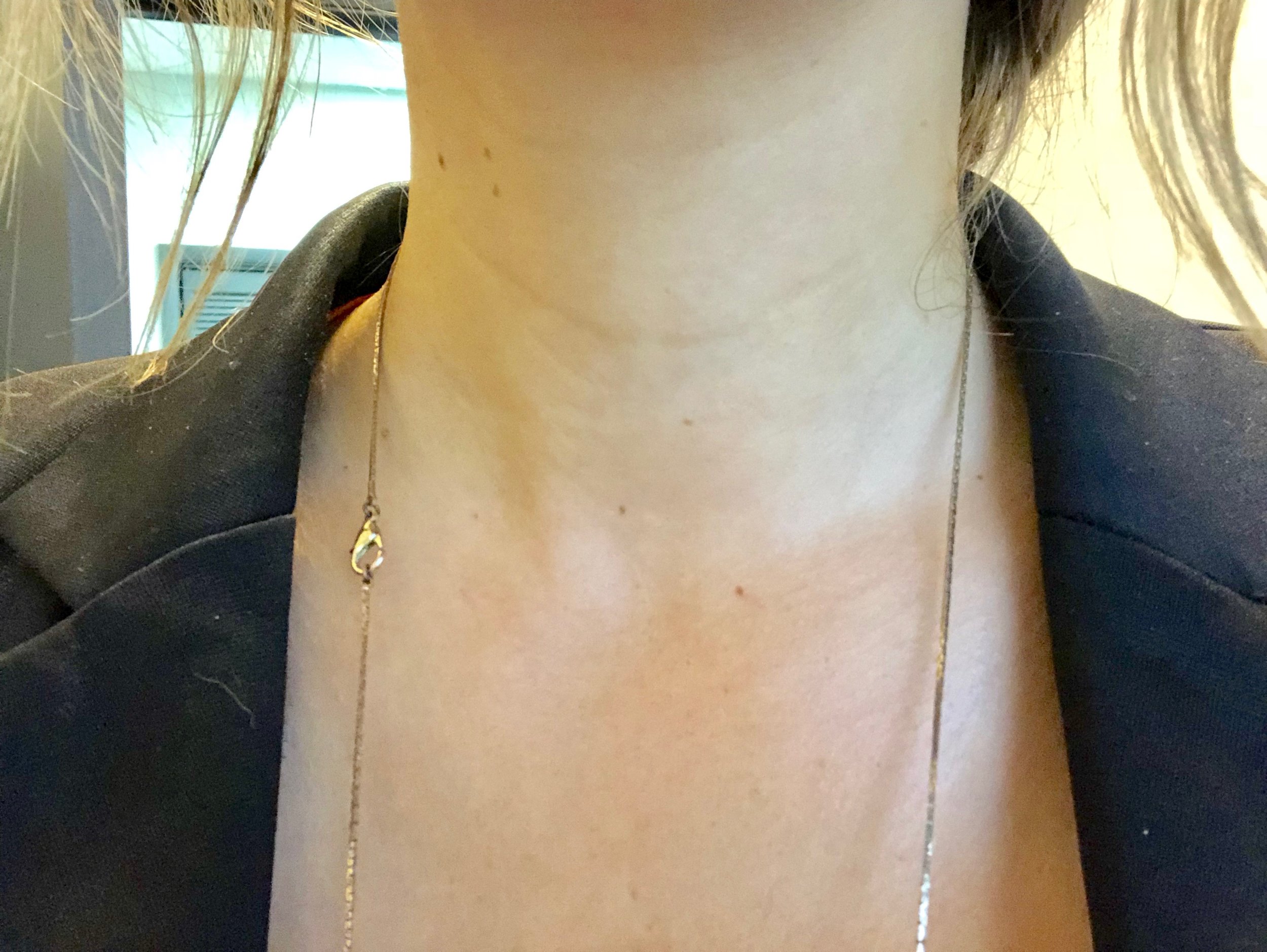 So the biggest thing I noticed is the lines I already had on my neck seemed a lot smaller, and my neck felt lifted but not like a pulling feel. Psychologically after using I feel like my posture is better and I am aware of my neck even more. It is awesome to have an OTC product that works!!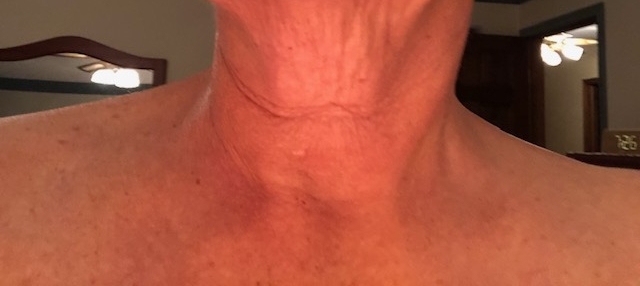 I tend to have a really great looking neck except for the big line that runs through! This is before I did the mask and serum.
Okay, so this is just after ONE use!! My neck is lighter, brighter and the wrinkles look way better than in the first picture. I had some trouble peeling it off, definitely takes 30 min but it was WORTH IT!
Product was interesting! Never had a clear mask before, and the consistency was unlike anything else I had tried. However, the mask smells amazing, I had no problem leaving it on for 30 min because I would get these wonderful hints of the aroma of the mask. Initial thoughts include the wonderful smell, the feeling of the mask felt like cool aloe which adds to the appeal. Lastly, it takes time to peel off if there are some un-dried parts but it was worth it.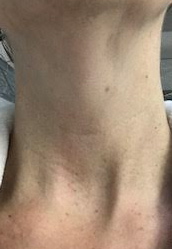 I would say the biggest thing I noticed was my neck was incredibly soft and looks brighter after every use, the one line I have seemed to be reduced so I would invest in this product for sure!
I deal with a lot of lines that aren't from age etc. I just have them and I hate them. I wanted a product that was over the counter, I can use as will and works. After the first use my neck felt tighter ALL day. It was great, and it was also so soft. I am more aware of taking care of my neck since using this.
As you can see, the difference is unreal. Not only did that first big line nearest my jaw go away, my neck became brighter. I really don't have to anything, just look at the pictures!!
My first week I was embarrassed as I actually took a look at what my neck looked like! I realized I had deep in set lines and discoloration, on top of my wrinkles ( which I happen to love).
Okay, LOVE this product! I found myself excited to use, and saw so many amazing properties. The first is you can see my wrinkles greatly reduces, the skin tone improved dramatically and my neck looks and feels tighter. I am so happy I tried out this product!!
My neck has always been very red, had a lot of big and little wrinkles that have gotten larger over time. I noticed the first time I used the product it was cool and smelled so good. It took about 30 minutes but came off in one nice peace, I look forward to using it!
What a difference! As you can see, I really saw a lightening and tightening of my neck. All of the little wrinkles were so reduced in appearance and the serum helped out every time after I used it. It like a silky lotion and I used it before I went out at night. I definitely recommend this product!